The year 2021, to put it kindly, has been a mixed bag and we are trudging bravely through the start of the new year 2022. The world has changed massively in the last two years. It was (is?) a confusing, exhausting, unattractive and demanding time that brought many things to a standstill. In many areas, projects were canceled and innovations put on hold. So it is all the nicer to see that even in "pandemic times" something new is being created.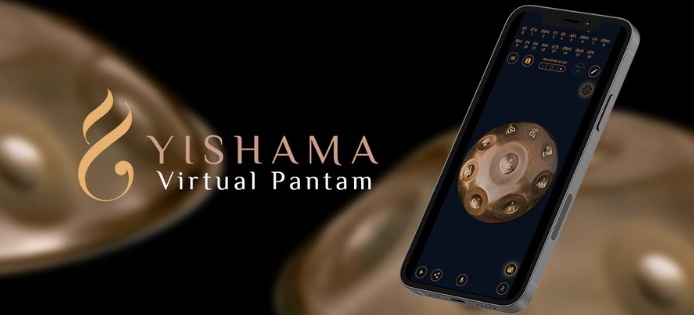 One of these current nice innovations, out of the "Handpan Universe" is the "Yishama Virtual Pantam Player". It is not only a great idea, but also a great technical product with a very good user interface. The developers as well as the entire Yishama team involved can be congratulated without reservation. In my opinion, you have created by far the best handpan/pantam app that exists or existed on the market – right now only for Android. currently the app is only available for Android.
The fact that you then make this app available free of charge is just great! Thank you for that.
An IOS version that will be available in a few weeks is already being worked on according to Yishama (additional info from 05.Jan.'22).
Here is a short overview of the great features of the YISHAMA app:
many different already preconfigured scales available
easy creation of own scales (incl. bottom notes !)
automatic transformation of scales (harmonic and logical)
save, share and send scales possible
play scales in 3 different "auto play modes". single notes, chords, harmonics
record and save playing sequences
successful integration of the possibility to play a "tak".
good handling with normal computer hardware (not resource intensive)
playing with keyboard and/or mouse works well
playing via touchscreen works GREAT! Hard to believe, but my convertible notebook becomes a playable handpan interface in seconds 🙂
also playing chords and harmonics works very well

To become familiar with all the functions, it is actually enough to take a little time to try things out intuitively and playfully.
For those who prefer to approach the matter with a bit of information, guidelines and profound explanations about the app, I recommend the almost 20-minute video from Kabecao on the app, explaining all: https://youtu.be/DHJr8xtOPNE
But wait, there is one more important and nice extra to discover !
There is one more strength of this app worth mentioning. Namely, something like a (not officially described) defined interface. This makes it possible to create or call up complex scales in the app via a link without any manual effort. It works like this:
1) you need the right prefix :
https://www.yishama.com/virtual-pantam-playground/?scale=
2) the scale as a "string". f.e.:
A2,(E3),(F3),A3,B3,C4,D4,E4,F4,G4,A4
notes in brackets, are the bottom notes
3) Merge Prefix and string, Call the Link. f.e.:
https://www.yishama.com/virtual-pantam-playground/?scale=A2,(E3),(F3),A3,B3,C4,D4,E4,F4,G4,A4
Congrats YISHAMA Team. You have made us a really great gift ! Thank you !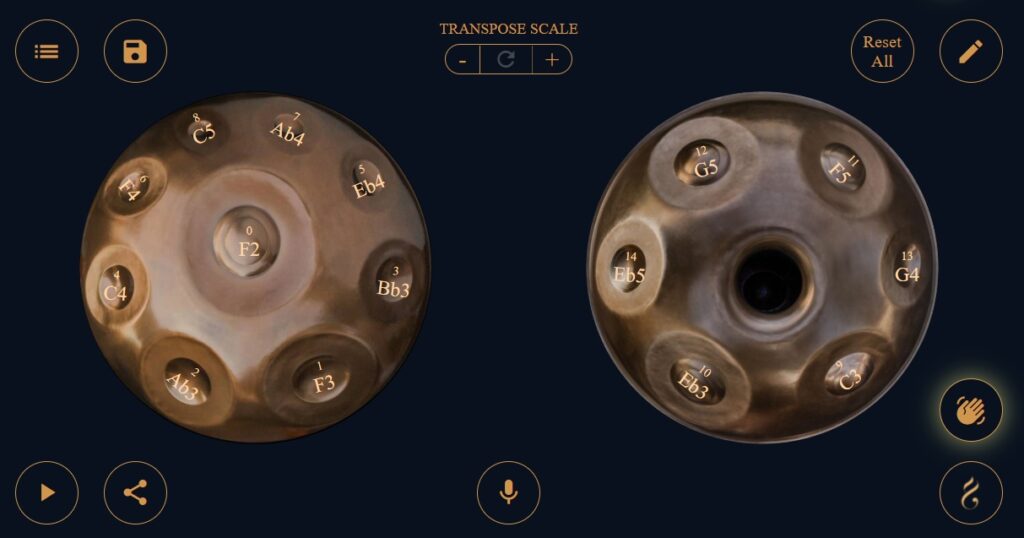 And because it's so easy and works so well to design and call the "scale links", I'll let you try out some of my favorite scales. I hope you have fun with it :
CELTIC MINOR/AMARA D3
https://www.yishama.com/virtual-pantam-playground/?scale=D3,A3,C4,D4,E4,F4,G4,A4,C5
HARMONIC MINOR / HIJAZZ G3
https://www.yishama.com/virtual-pantam-playground/?scale=G3,C4,D4,Eb4,F4,G4,Ab4,B4,C5,D5,Eb5,F5,G5
BHINNA E2
https://www.yishama.com/virtual-pantam-playground/?scale=E2,B2,D3,E3,F3,Ab4,A4,B4,D5
AIVA A2
https://www.yishama.com/virtual-pantam-playground/?scale=A2,(E3),(F3),A3,B3,C4,D4,E4,F4,G4,A4
OVANA E3
https://www.yishama.com/virtual-pantam-playground/?scale=E3,A3,B3,C4,D4,E4,F4,A4,B4,C5,D5
PYGMY F3
https://www.yishama.com/virtual-pantam-playground/?scale=F3,G3,Ab3,(Bb3),C4,(Db4),Eb4,F4,G4,Ab4,C5,Eb5,F5,G5,(Ab5),(Bb5),(C6)
PENTAGONG F2
https://www.yishama.com/virtual-pantam-playground/?scale=F2,(C3),(Eb3),F3,Ab3,Bb3,C4,Eb4,F4,(G4),Ab4,C5,(Eb5),(F5),(G5)