[EN]
What was almost impossible just a few years ago, to get a good handpan quickly and easily, has become quite easy today
In addition to some Handpan manufacturers who sell their instruments directly through their website and the very good virtual Market Place in Facebook (FB Group Name: "SWAP and SALE (only for 2nd hand Handpan)"), now also the first Handpan Shops, which work with several manufacturers emerge.
Especially for Handpan Newcomers who are looking for their first instrument, Shops where Instruments from different manufacturers and Scales can be tried out are invaluable. Feel, try and compare ensures that even newbies can choose the instrument that is best for them and so i like this developement.
I took a closer look at some of these Handpan shops and also rated them. I paid attention to the following criteria to identify the best HANDPAN SHOP (scroll down to see the listing):
Is the price / quality ratio of the offered instruments correct?
How transparent are the offers?
Are the manufacturers named or are they "misused" (eg through invented private labels)?
How diverse is the selection of manufacturers and Scales?
Are services also offered? (rent of instruments, re-tuning, …..)
Is there a Real Shop or is it just an Online Shop ?
How long it takes to get answer after a request ?
---
[DE]
Was noch vor wenigen Jahren fast unmöglich war, nämlich einfach und schnell an eine gute Handpan zu kommen, ist heute recht einfach geworden.
Neben einigen Handpan Herstellern die ihre Instrumente direkt über deren Webseite verkaufen und dem in Facebook organisierten 'Marktplatz' (FB Gruppen Name: "SWAP and SALE (only for 2nd hand Handpan)") , entstehen nun auch die ersten Handpan Shops, die mit mehreren Herstellern zusammenarbeiten.
Vor allem für Handpan Neulinge die auf der Suche nach ihrem ersten Instrument sind, sind reale Shops, in denen Instrumente von verschiedenen Herstellern und Scales ausprobiert werden können von unschätzbaren Wert. Spüren, probieren und vergleichen stellt sicher, dass auch Neulinge das für sie optimale Instrument auswählen können.
Ich habe mir ein paar dieser Handpan Shops genauer angesehen und auch bewertet. Dabei habe ich auf folgende Kriterien geachtet:
Stimmt das Preis/Leistungs Verhältnis der angebotenen Instrumente ?
Wie transparent sind die Angebote?
Werden die Hersteller genannt oder werden diese "verscheiert" (zb durch erfundene Eigenmarken)?
Wie vielfältig ist die Auswahl an Herstellern und Scales ?
Werden auch Services angeboten ? (mieten von Instrumenten, Nachstimmen,…..)
Gibt es einen Laden, oder wird nur online vertrieben ?
Wie lange dauert es eine Antwort auf eine Anfrage zu bekommen ?
---
HANDPAN SHOP Ranking:
[EN] After browsing the Internet and "scanning" the Handpan Shops i found, i ended up with following findings:
There are Handpan Shops, you really better stay away from ! Handpans are still rare enough, to make it easy to cheat newbies with really bad quailty pans for high prices …
There are some known Brands like Spacedrum, Terre, Meinl you will find in many Music Instruments Dealers Shops (fe. at Thomann). But the Ratio of Quality and Price of those offers are just not in balance imo …
ALL Dealers, beside just two Shops try to disguise manufacturer of the Instruments, and this smells like they try to achieve a (to)high profit margin…
---
[DE] Nach meinen Recherchen im Internet und dem genaueren analysieren der Handpan Shops, kam ich zu folgenden Ergebissen:
Es gibt einige Handpan Shops von denen man am besten Abstand nimmt ! Der Handpan Markt bieten immer noch die Gelegenheit, vor allem Neulinge, mit schlechten Instrumenten zu horrend überteuerten Preisen zu blenden….
Es gibt einige Marken wie Spacedrum, Terre, Meinl die man in vielen Musikinstrumenten Shops (zB. Thomann) findet. Meiner Meinung nach stimmt aber bei diesen Angeboten das Verhältnis von Qualität zu Preis nicht…..
Alle Händler, außer zwei Anbietern versuchen die Hersteller (einiger) Instrumente zu verschleiern, und das riecht schon sehr nach dem Versuch die Preise möglicht hochzutreiben….
---
[EN] Large selections, fair prices (plus support of NGO's at PANGRILA !), transparent (all Brands & Makers are named), good services, Real Shop & Online Shop. Unrestricted recommendation
[DE] Große Auswahl, faire Preise (mit Unterstützung von NGO's bei PANGRILA) , transparent (Hersteller werden genannt und beschrieben), Miet- und Retuning Services, echtes Geschäftslokal & Online Handel. Uneingeschränkte Empfehlung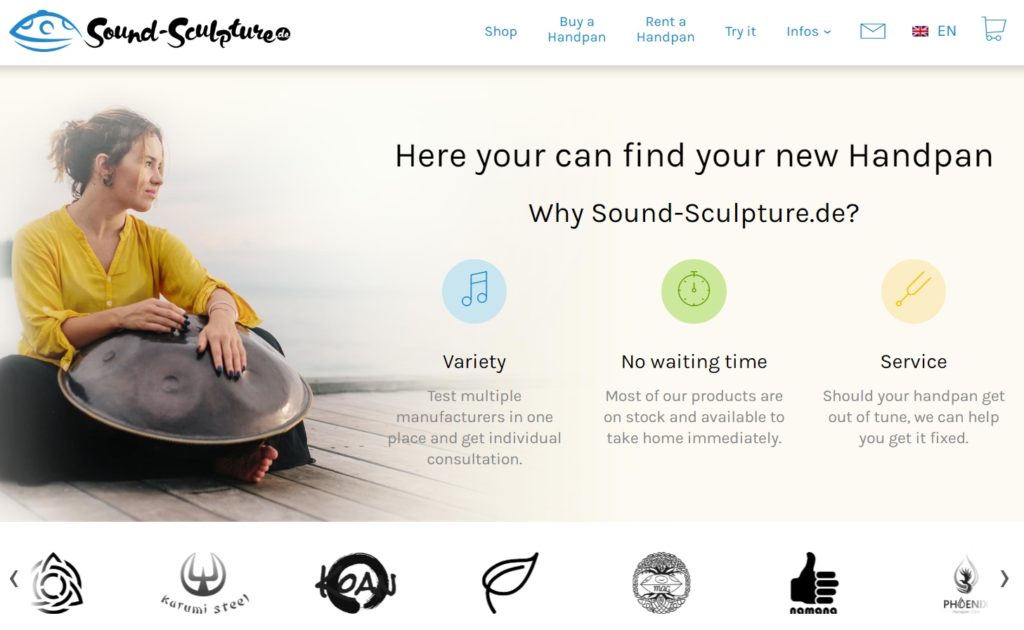 ---
---
[EN] Since all other Shops that i found have some mankos regarding naming the manufacturer, offering services (retuning, renting,…), offering a fair balance of price and quality and/or unsatisfactory communication with customers I can not recommend them unreservedly !
But its worth to visit those shops as well frequently. Because also in this Shops you have a chance to find YOUR HANDPAN in a shop… GOOD LUCK !
[DE] Nachdem alle anderen Shops die ich mir angesehen habe Mankos bezüglich dem Nennen der Hersteller, Anbieten von Services (Retuning, ausleihen,…), faires Preis- Leistungs Verhältnis und/oder unzufriedenstellende Kommunikation haben, kann ich diese nicht uneingeschränkt empfehlen.
Aber es ist vielleicht wert, auch diese Shops regelmäßig zu besuchen. Auch in diesen kannst Du vielleicht DEINE HANDPAN zu fairen Konditionen finden… VIEL GLÜCK !
---
---
---
Not all Instrument Makers are named, but beside that you can can find nice offers in that shop. They also offer "rent a Handpan"….worth a try !
---
---
---
RAVEN-SPIRIT.CH (Switzerland)
They do not name the Makers of the Instruments and when you see their pricing, its quite clear why. i recommend to be careful. Better you double check and compare with other offers befor taking one….
---
If you miss a Handpan Shop in this "listing" please let me know about by susing the contact form below. Thank you !
---