Pantam Collective Presents: Global PAN-demic Relief – 24hr Festival
24. April 2020

-

25. April 2020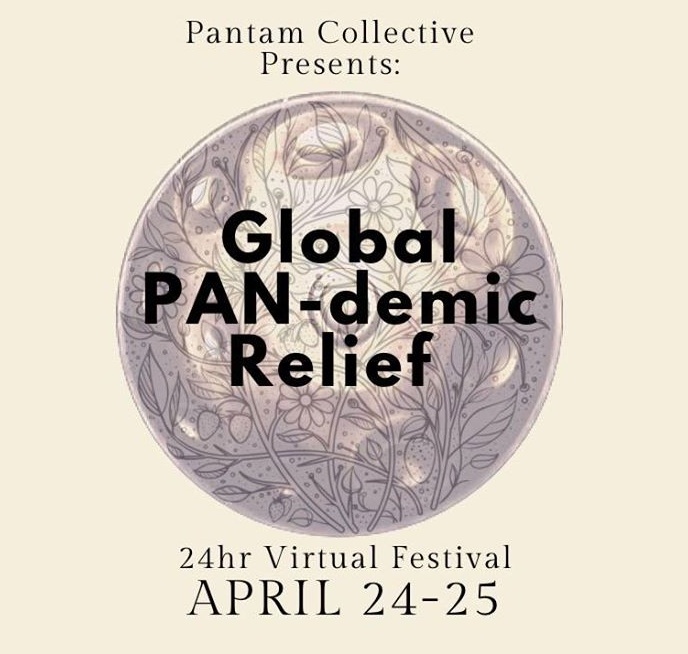 The Pantam Collective is pleased to invite you to "Global Pan-demic Relief – 24hr Virtual Handpan Festival", created in response to the global health, economic and social crisis caused by Covid 19 .
The festival will feature 24 of the top handpan players, musicians, artists and builders from around the world, all who have been impacted from cancelled tours, festivals, gatherings, concerts, and classes. This 24-hour virtual event is our way of coming closer as a community in a time of self-isolation, all while demonstrating the resilience of art in a time of crisis.
The genre is rooted in the ever-developing world of the Pan-tam, or handpan, which is a steel instrument developed in 2000 in Switzerland. As the name implies, the instrument is formed by the fusion of the Steel Pan from Trinidad and the Ghatam (a clay pot drum) from South India, creating a uniquely multicultural voice.
Artists featured include Laurent Sureau from France, Panersia from Iran, Jonathan Scales from the USA, Swaminathan Selvaganesh from India, Alexander Lora from Brazil, Reo Matsumoto from Japan , and Kiril Osherov from Moscow to name a few.
All funds raised will go to supporting our curated list of full-time and touring handpan artists.