GRIASEICH – Free Flow HANDPAN & MUSIC GATHERING (AT)
26. July 2019

-

28. July 2019

€40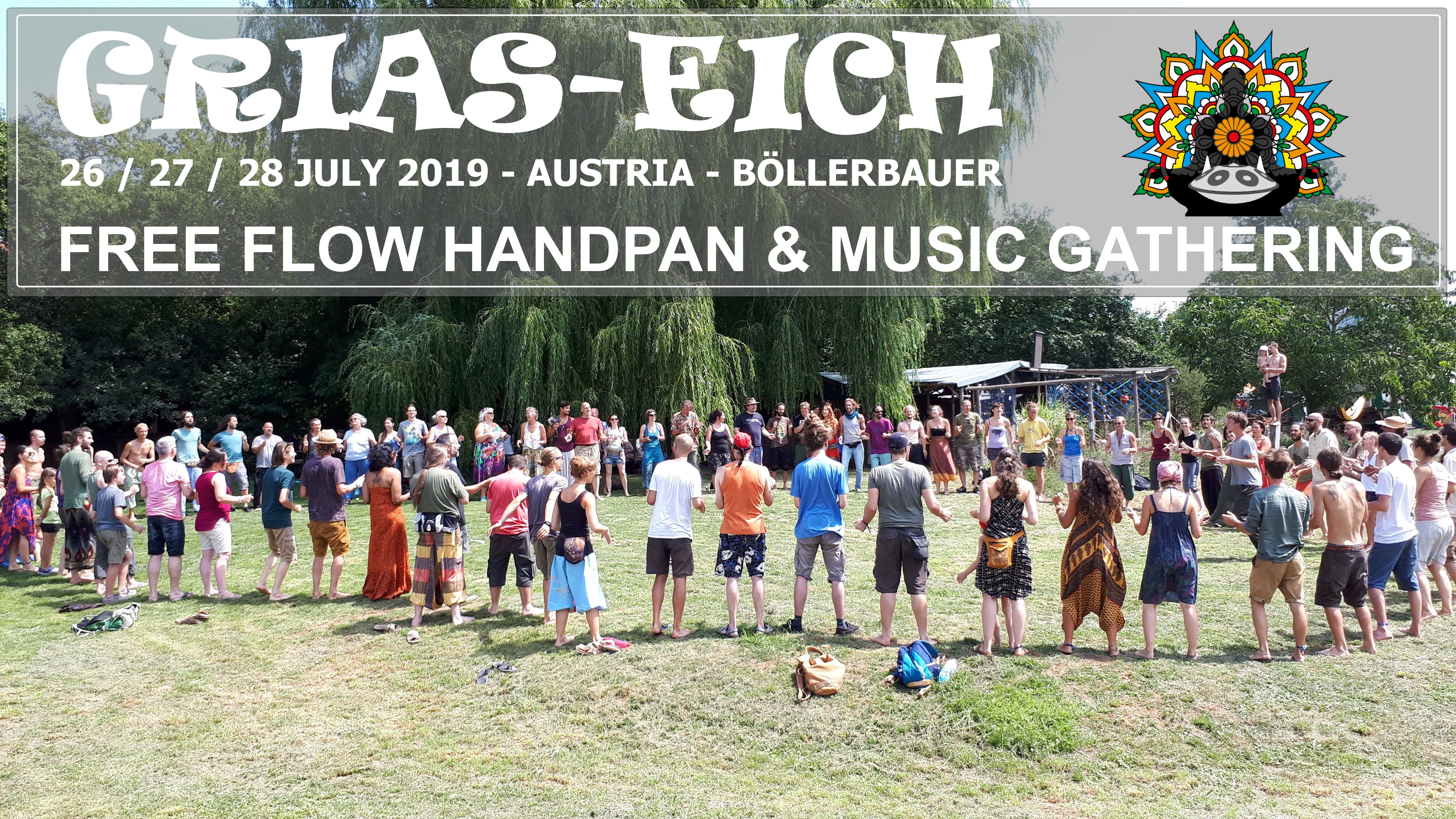 Dear GRIASDI Family and HANDPAN Community !
As you already know, there will be no GRIASDI in 2019. At least not in this form.But, and hopefully that will make you happy, there will be the
GRIASEICH 2019 – Free Flow Handpan & Music Gathering
It will take place at the already proven location
at
BÖLLERBAUER
in Austria from the 26th to the 28th of July 2019
.
"Free Flow Gathering" means that there is no given and organized program. No organized concerts or workshops. As said, the GRIASEICH is a pure Free Flow Gathering and NOT a festival !
Camping area
a beautiful and wide area to jam, make camp fire, …..
large indoor areas
Drinking water
Running water (but no showers)
Toilets
Open stage
an infoboard – to be able to organize yourself (workshops, …..)
In order to be able to provide all this, there is a
compensation of 40 euros
for the participants (in total, for all three days). It is also important for us to know, how many of you are about to come.
So PLEASE GET YOUR GRIASEICH 2019 TICKET NOW – with your payment you help us to pay the events advance payments and also you help us to be prepared for for a certain number of participants !
Furthermore, as usual, there will be food stalls and of course drinks at fair prices, as well as at the GRIASDI Festival.
We look forward to seeing you – and wonderful FREE FLOW days full of magical jams 🙂
=====================================
Liebe GRIASDI- und HANDPAN Community !
Wie Ihr ja schon wisst, wird es 2019 kein GRIASDI geben. Zumindest nicht in dieser Form. Aber, und das wird Euch hoffentlich freuen, wird es das
GRIASEICH 2019 – Free Flow Handpan & Music Gathering
Dieses wird an der schon bewährten Location
am
BÖLLERBAUER
in Österreich vom 26. bis 28. July 2019
stattfinden.
"Free Flow Gathering" bedeutet, dass es kein vorgegebenes und organisiertes Programm gibt. Keine organisierten Konzerte oder Workshops. Wie gesagt, das GRIASEICH ist ein reines Free Flow Gathering und KEIN Festival !
Was es aber geben wird ist:
Campingbereich
jede Mange Platz zum Jammen, Lagerfeuer machen,…..
grosse Indoor Bereiche
Trinkwasser
Fliessendes Wasser (jedoch keine Duschen)
Toiletten
Open Stage
ein Infoboard – um sich selbst organisieren zu können (Workshops,…..)
Bitte besorgt Euch möglichst GLEICH Euer GRIASEICH 2019 TICKET – mit dem Kauf des Tickets hilfst Du uns die Vorkosten für den Event zu bezahlen – und außerdem hilft uns der Ticketverkauf beim einschätzen der Anzahl der Teilnehmer. DANKE !
Weiters wird es wie gewohnt Essensstände und natürlich Getränke zu fairen Preisen, so wie auch beim GRIASDI Festival geben.
Wir freuen Uns auf Euch – und auf wunderbare FREE FLOW Tage und jede Menge grossartiger Jams 🙂
Nutzt auch die GRIASEICH Facebook Veranstaltung um euch zu organisieren und bekanntzugeben ob ihr kommt, damit wir eine Vorstellung bekommen davon, wie viele wir sein werden.