Handpans have captivated me for years because of their wonderful analog and deep sounds and also because of the feel when playing. Furthermore, they are for me a wonderful example of what you could call "things that have a soul". Human handwork in combination with experience and masterful craftsmanship is not often found in our "modern times". So it is all the more beautiful to play on an instrument that possesses these soulful qualities !

lately i've been expanding my own personal musical horizon a bit. i finally got rid of my "fear of a keyboard" and enjoy more and more experimenting with sounds and melodies away from my beloved handpans. i have created an environment that has become a great musical playground for me. To be honest, it didn't take much effort to build a functioning digital/midi/vst/daw environment. It doesn't take much, and it doesn't take a lot of money.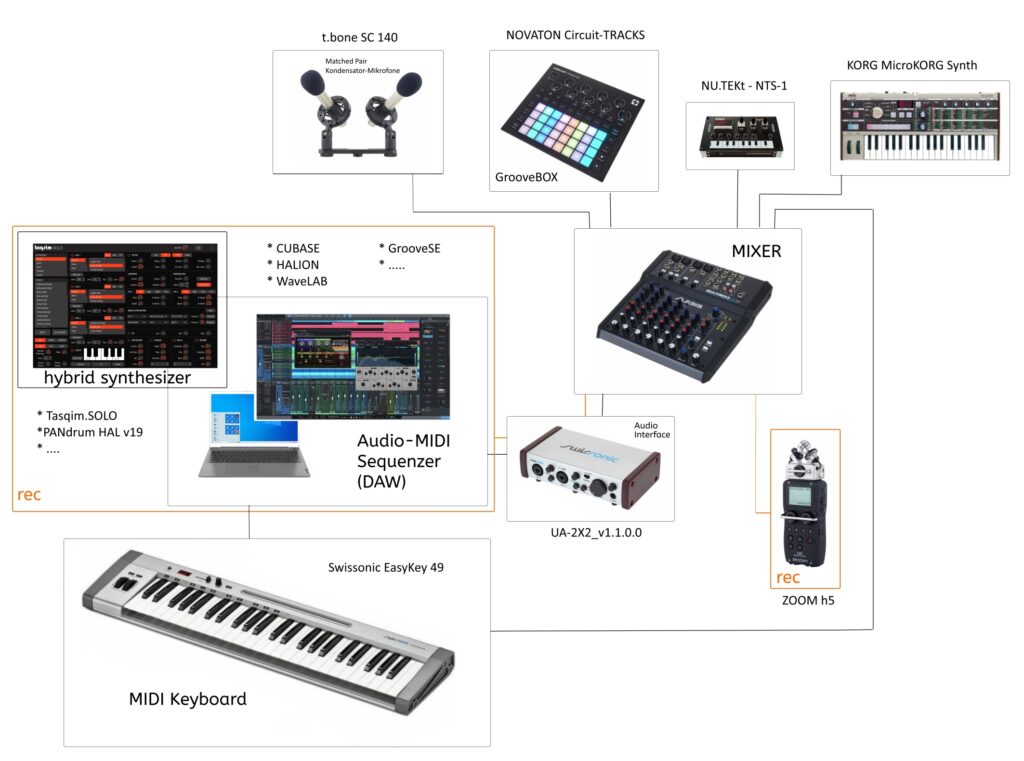 After you have built up a "technically functioning" environment, you quickly realize that from now on it is the quality of the VST instruments that will be the main source of enjoyment. Of course, it's also good to have a DAW installed that you know how to use and midi instruments that have a "nice touch" – but without high-quality sounds, all this is useless!
Since the quality requirements in the world of digital and manipulable sounds are very much dependent on how the generated sounds are (further) used, serious evaluations can hardly be given. When it comes to digital (vst) handpan sounds, I find the samples of "PANDRUM" (cinematic instruments) qualitatively the best. The Pandrum samples are also used by the digital "WAVEPAN" and were, as far as I know, commissioned by the Wavepan developers.
as already mentioned, this topic is also very much about personal preferences that can hardly be objectified. If you are interested in the topic "Digital Handpan sounds", the following links can help you to get a good overview of the topics Digital Sounds, Virtual Handpans & Digital Handpans.
Have fun browsing …..
LINK Collection:
HANDPAN and Tonguedrum VST-Instruments:
PANDRUM:
https://cinematique-instruments.com/pages_instr/inst_pandrum.php
PAN DRUMS – THE ULTIMATE HAND PAN COLLECTION:
https://www.soniccouture.com/en/products/35-rare-and-unique/g29-pan-drums/
8DIO's – Alien Drum
https://8dio.com/products/alien-drum
Ample Percussion Cloudrum (free)
https://www.bestservice.com/ample_percussion_cloudrum_apc.html
Virtual HANDPAN Players and Apps:
PANLAB Vienna "Scales Explorer"
The scale exporer allows you to play arround with arround 50 different scales.
https://pan-lab-vienna.at/explorer1/
PANLAB Vienna "Scales Player"
For your amusement, for your handpan scale research, for random mesmerization…..
https://pan-lab-vienna.at/player1/
YISHAMA "Virtual Handpan"
When it comes to exploring existing scales, you have the opportunity to check them out first-hand, rather than watching videos of other players.
Thanks a lot to Hadas Segal for developing this app with us!
https://www.yishama.com/virtual-pantam-playground
"Handpaner"
is an open source project developped with ♥ by Robin BERGÈRE.
Samples recorded by Matthieu from Shellopan
https://handpaner.com
RAV Vast – "Virtual Musical Instrument Online"
This Virtual Player was created in order you can try playing a particular tuning and see if this note combination suits you.
https://ravvast.com/virtualplayer/
HaganeNote – "Handpan Virtual Instrument"
This is a multi-touch VST Handpan Virtual Instrument that plays HaganeNote handpan samples. Select the scale and enjoy playing.
https://www.haganenote.com/vst/handpan-virtual-instrument.html
Pantheon Steel – "The Virtual Halo Player"
Experience current Halo sound models with our virtual player.
https://www.pantheonsteel.com/virtual-player/
DIGITALE HANDPANs:
NEOTONE – https://digitalhandpan.com
WAVEPAN – https://www.wavepan.de