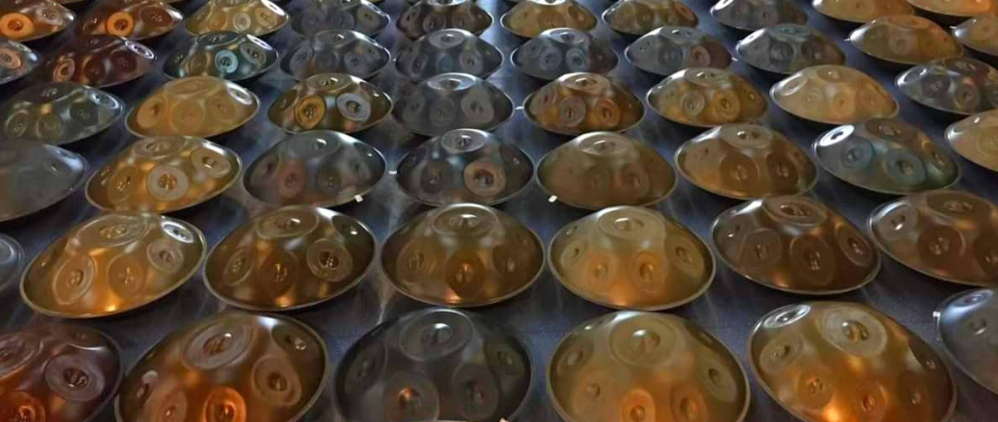 Handpans are unique – so every handpan is different and has its own "personality" you can say. In general, you need to touch it and play it to know, if you are a harmonic couple. In real life, this is not always possible.
Here we go with some guidelines and hints about how to get / buy a Handpan. GOOD LUCK – may the right pan find the way to you !
BUYING DIRECTLY FROM THE MAKER – and BUYING FACE TO FACE
In my opinion an important step on the way to get a good handpan is: Get in touch with the community! Browse Handpan Forums and Facebook groups and Handpan related Webpages and Blogs. Come in touch with handpan community members and learn from their experience.  Get informed about HandPans BEFOR you think about buying one !
Find out, what type and scale of HandPan "touches your soul" and get in contact with the maker. Some you can contact directly (Facebook, Chat, Skype,…), others you will just reach by mail. Nearly all makers fill a waiting list and they choose, how many they put on that list. Unfortunately (for you, the buyer)  some makers are booked for years and do not accept more customers.  Manny of the makers do so called FlashSales or Lotteries beside working off their waitinglist – and they announce it. Keep an eye on the websites of the makers.
Summary in short:
Get in contact with the Handpan Community
Get informed about Handpans
Choose "your" maker and scale
Make the arrangements about the price, payment and shipping with the maker
Wait to get it
Have fun and joy with YOUR HANDPAN
---
BUYING at a HANDPAN SHOP ? There are just TWO RECOMMENTATIONS for you guys (August 2019)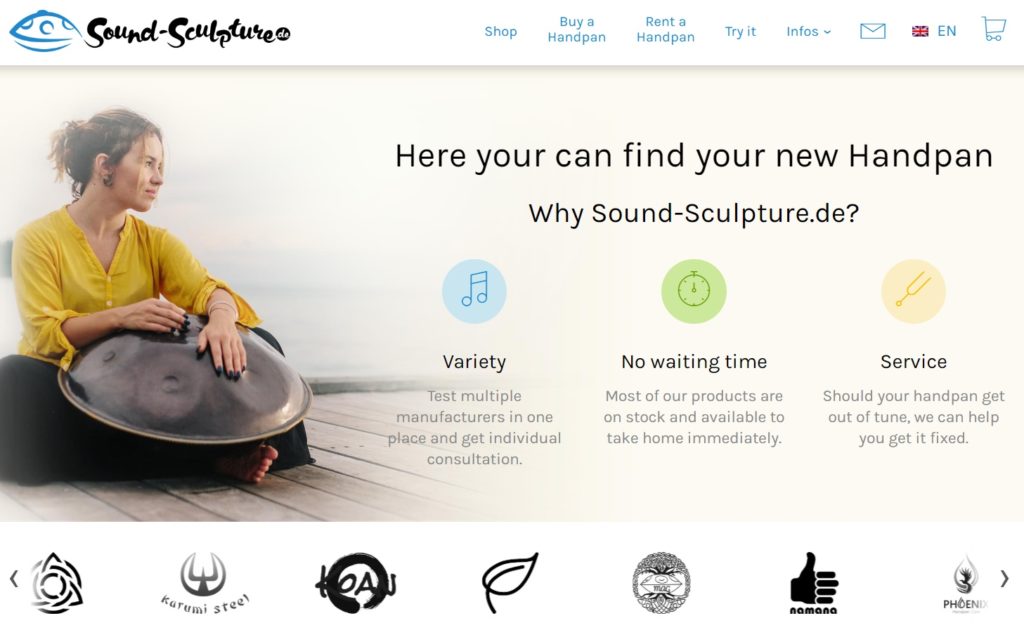 All other HANDPAN Shops i found in August 2019 i can't recomment …. want to know why ? read this….
BUYING A HANDPAN SECOND HAND – VIRTUAL BUYING

(be careful!)
Since the first Handpan, the "Hang"  appeared in 2000, its unique appeal and novelty led to rapid notoriety and, of course, inspired many other creative makers to try their own versions of similar creations. As the original Hang was made by only two people and supply was limited, it led to a rapid rise in the 2nd hand market prices on sites like eBay and at times prices up to $15,000 were paid for Hang handpans.
This equally attracted the rotten scoundrels of the world, who enjoyed attempting to cash in on the huge interest the Hang had created in instruments and sound creations in this form.
So, if you're looking to buy a Handpan – not directly from the maker – here's a few key tips on making sure you don't get ripped off and end up paying for nothing…or something vastly inferior that looks like a handpan 😉 !
1. Seller Feedback & History – Make sure that the seller has a very good reputation though this is no guarantee of anything. There are lots of scammers on ebay!
Short description and no detail = BAD SIGN!
2. Short Description – Most HandPan owners are very passionate about their instruments and know quite a bit about them. If the item description is very short, and doesn't contain much technical information, or a bit of a back story, it's more likely to be a fake. Remember too, that stories can easily be fabricated or copied from other people on the net, but it's often a good starting check….
3. Fake or Poor YouTube Video – A YouTube video is not always genuine or it may be that the seller has a habit of using other people's videos to pass off their sale as genuine. Check their Youtube video channel for signs of inconsistency (i.e. no other handpan videos on there – or loads and loads with similar titles – like "Handpan for ebay sale")
4. Item Title – There are many makers of handpan nowadays, and a simple listing that calls it just a "handpan" with nothing else about its maker or history is a big sign of fake listings.
5. Shipping and Price – shipping handpan around the world is no easy task to ensure it arrives in good condition. A valid, knowledgeable hand pan owner would probably have quite a bit of information about shipping and perhaps even a good idea of costs. If shipping is not mentioned, or there's no attention to detail, then it's another "hands off" sign.
6. Payment Method – Never, ever pay with Western Union. Most people are aware of this, but it's good to remind you. eBay and PayPal are a better combination, but again you could see yourself running into trouble unless you are absolutely sure that eBay & PayPal will "buyer protect" the sale in the event of it being fake or a scam.
7. Contact Info – if there's an offer to contact the seller outside of eBay (by email specifically) or if it mentions something like "you can only contact me on my work email" then it's almost 100% a scam.
8. Seller Country – I wouldn't want to cast doubt on people of various countries, but if they come from smaller, more obscure countries – then there's a possibility that this sort of fraud is harder to stop due to local laws being less stringent.
9. Check with the Community
10. Don't be impulsive – Exciting as the prospect might be, don't rush in. Auctions take time to complete and 1 or 3 day auctions are always suspicious. Scammers like to 'hit and run' before they get busted and removed. Good luck with your hunting!
Remember – if in doubt, don't spend money, ask for advice first.
GOOD TIPS TO AVOID GETTING SCAMMED
You've come into our steel-tinged world at the right time… just a few years ago, handpans were as rare as hen's teeth, but now there are many good makers in many parts of the world, as there are players wanting to sell or swap their handpans. Sadly, however, this also means there has been an increase in the number of dodgy offerings, scams and cons.
Thank you David Charrier for your really helpful article:
https://www.masterthehandpan.com/blog/hang-drum-for-sale-11-top-tips-to-avoid-getting-scammed-when-you-buy